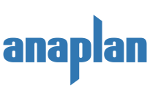 Anaplan, Inc.
Anaplan is a slice of Silicon Valley in the heart of Yorkshire. Originally founded in York, UK, and headquartered in San Francisco, Anaplan has offices all over the world – and now we're opening an engineering center in London! We're on a mission to revolutionize how companies analyse and plan their businesses, and it's working! Hundreds of Fortune 2000 companies trust us and our product, and we've only just begun.
Our technology
Anaplan is the world's leading planning and performance management platform. Our core technology is Java on Linux, and we run very large JVMs on our own cloud platform, on our own servers, in data centers around the world. Our patented calculation engine runs and stores all data in memory for super-high performance while staying safe with transaction logs and auto recovery. On top of this platform, we have a JavasXript client running in the browser, which allows customers to make critical planning decisions in real time.
Our offices
We are very proud of the amazing people who work at Anaplan, and encourage an open and collaborative way of working—which is evident in our open office spaces, team-building activities, and even our software! Our new office in central London will feature an open layout and award-winning design, reflecting the company's values of providing a cool, accessible, and dynamic space so employees can freely exchange thoughts and ideas.
Why work with us?
Our employees enjoy a number of perks, including flexible working hours, opportunities to work from home, free food and drinks, regular social and technical events, and bespoke career management.
We have huge and incredibly interesting problems to solve, and we need the smartest people to help us do it! Interested? Visit https://www.anaplan.com/about/careers/