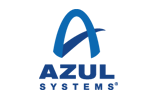 Azul Systems, Inc
Azul Systems is the industry's only company exclusively focused on Java and the Java Virtual Machine (JVM). We build fully supported, standards-compliant runtimes that help enable Java-based businesses.  
Azul's Zing® is widely deployed throughout multiple industry sectors. Its advanced technology is capable of delivering ultra-low latency, consistently high performance and predictability, ensuring a fair and high-performance execution platform.
Azul's Zulu Enterprise delivers fully supported, commercial grade, certified builds of OpenJDK that can be deployed on multiple platforms.