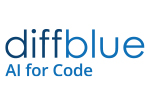 Diffblue
Diffblue is changing the way software is developed using Artificial Intelligence (AI).
Diffblue Cover, the company's first product, automatically generates tests for Java code to enable development teams to deliver higher quality software, faster. Diffblue's technology is developed by our team of leading experts in software verification and synthesis. Our customers include Goldman Sachs and Amazon Web Services.
Diffblue spun out of the University of Oxford in 2016 and received the largest AI Series A funding in Europe in 2017. We are backed by Oxford Sciences Innovation and Goldman Sachs, and headquartered in Oxford, UK.
To learn more about what we do, visit our Products page.