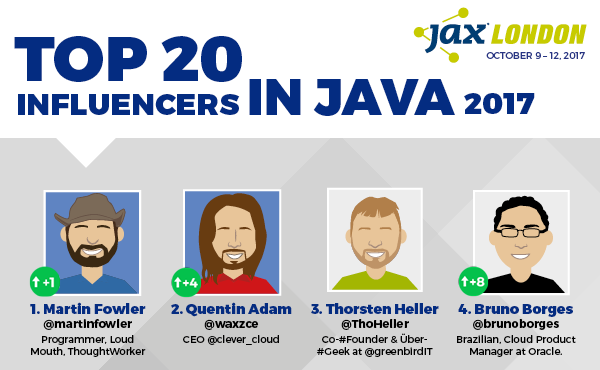 Who are the most influential Java people in the Twittersphere? After analyzing thousands of accounts, we created a list of people that every Java enthusiast or pro should be following.
All influential people have something in common: they can spread ideas faster and better than anyone else. We are aware that following these people has a handful of perks, including staying on top of the latest news and trends. Therefore, we decided to concoct a list of Twitter accounts all Java fans should follow. The analysis ranks the top accounts in accordance with their social influence, although interestingly enough, not all household names of Java evangelists are on the list. Nevertheless, we are very proud of the list that we came up with.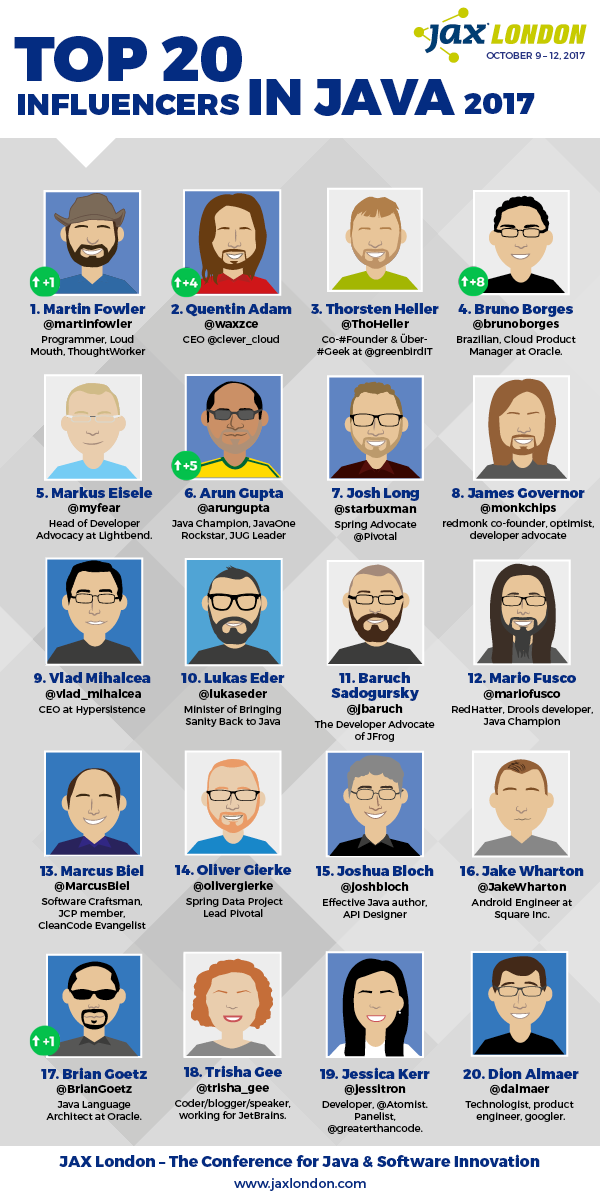 Congratulations to all influencers who made it into our Top 20 list. Click on each username to visit their Twitter accounts or the list on twitter. Below our detailed list, you find our Methodology and insights how we created the ranking.
METHODOLOGY
We first generated a list of twenty thousand Java-related Twitter accounts (including all accounts that contain the keyword Java in their bio or in any of their tweets.)
To score the account and rank them accordingly, we analyzed their social authority and reach using two key metrics: MozRank and Klout.
Moz Social Authority Score: Social Authority score is composed of:
The retweet rate of users' last few hundred tweets.
The recency of those tweets.
A retweet-based model trained on user profile data.
Visit this MOZ blog post for more in-depth information.
Klout Score: Klout uses more than 400 signals from eight different networks to update the Klout Score daily. It's mainly based on the ratio of reactions a user generates compared to the amount of content he shares. Read more at the Klout score blog.
Legend